CONNECT YOUR OWN DOMAIN
Connect your website to your own domain!
An Internet Domain is the unique and exclusive name that websites have. They are entered into the address bar of the browsers to visit our website. If you already have your own domain, you can connect it to your goBlips website.
Keep in mind that goBlips does not have a domain sales service, so you must purchase it through the company of your choice among the many that are available on the Internet. However, goBlips suggests that you do so through the provider GoDaddy.
Once you have acquired the domain, you can start the connection process of your website within goBlips.
Location: Control Panel > My Domains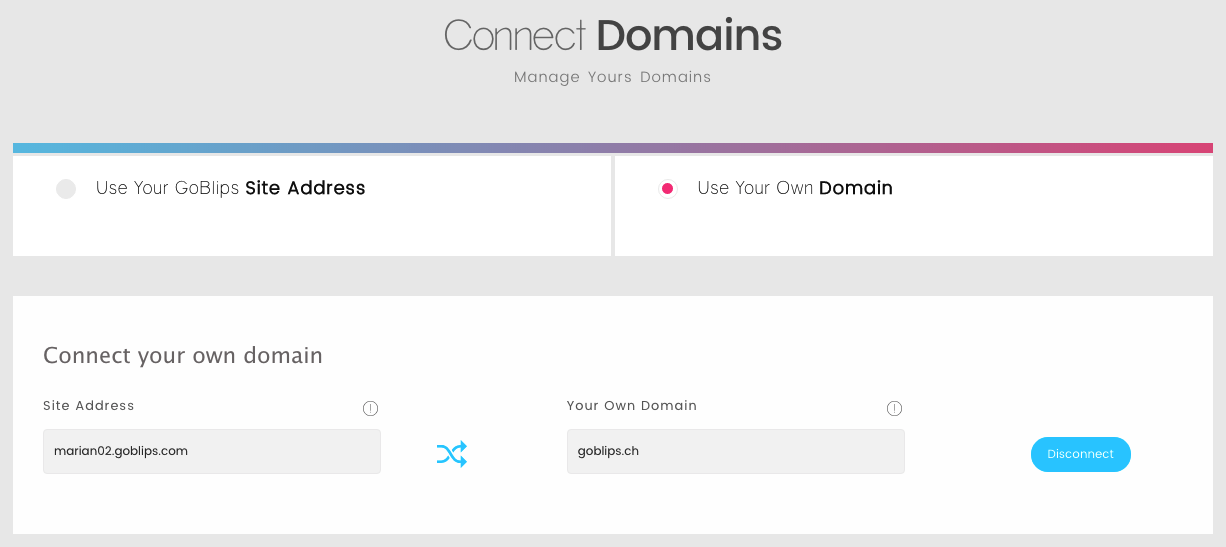 HOW TO ACCESS
1. On the Control Panel Screen, select the My Domains option
2. Go to the section Connect my own Domain
Note: If you do not have a plan that includes this option, you must upgrade it to enable this function.

CONNECTING MY DOMAIN
1. Place the cursor in the text field Your Own Domain and click to start editing.
2. Enter the name of the desired Domain using the domain extension that corresponds, either a .com extension or the extension you have.

Note: Please do not use "www." before the name.
3. Once you enter the name, press the Save option. The system will verify the validity and availability of the domain. In the case of valid verification, it will automatically go on to the next step.

Attention: In case you need to keep the email messages you have at the domain you will connect with goBlips, we recommend taking precautions to avoid losing your messages:
• Make sure to create a local backup of all email messages of each account registered with that Domain.
• Keep in mind that updating the Internet name servers can take up to 48 hours to regularize the service.
4. Here, you must configure the DNS Servers of your domain to point to the following Name Servers:

Primary DNS: elsa.ns.cloudflare.com
Secondary DNS: paul.ns.cloudflare.com
If you do not know how to change the DNS (Name Servers), please read the Note at the following link: Configure My DNS
5. Press the Verify button

6. The system will consult with the goBlips DNS servers if your domain is already pointing to them. If it is, the goBlips system will validate the connection showing that it is active.

Note: In case you do not verify the validation of goBlips, you must wait for a few minutes, in case the Domains were never redirected, (up to 48 hours in some cases) to be able to see the application of the changes globally and try the connection again.